Courses

History Helper offer an range of courses in conjunction with the Australian College of Family History Studies, both face to face and online. These range from free webinars and small group online sessions to traditional classroom courses.
The ACFHS also offers a 2 year long intensive Diploma Program - the Diploma of Family History Research - with an aim to prepare candidates for certification with BCG, ICAPGEN, AAGRA and other bodies. Contact us for more information of this program.
Event Type
These sessions are designed to follow on from the Free History Helper/Australian College of Family History Studies free Facebook Live webinars streamed from the History Helper Facebook site.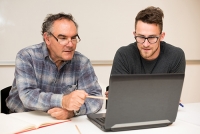 Join professional researchers online to learn the most effective ways to conduct your own historical research.