Johann Bohlmann (1812-1901)
Jump to navigation
Jump to search
Johann Bohlmann (b.1812 Thedinghausen, French Kindom of Westphalia - d. 1901 North Adelaide, South Australia) was a master tin metal worker from Bremen who arrived in South Australia aboard the "Heerjeebhoy Rustomjee Patel" in 1846 and lived in South and North Adelaide until his death.
Johann Bohlmann

Johann Bohlmann and his granddaughter Kitty circa 1895

Born

Johann Büssenschütt


1 March 1812


Thedinghausen, French Kingdom of Westphalia

Died
10 December 1901


North Adelaide, South Australia, Australia

Resting place
North Road Cemetery, South Australia
Nationality

French (1812-1813)
Brunswicker (1813-?
Bremener (?-1846)
British(1846-1901

Other names
John Bohlmann; John Bohlman
Occupation
Tin metal worker (Blechenschläger)

Spouse(s)
Biography
In Germany
Johann Bohlmann was born Johann Büssenschütt, the illegitimate son of Gesche Büssenschütt and Georg Friedrich Bohlmann, on 1 Mar 1812 in the village of Thedinghausen. At the time Thedinghausen was in the area under the control of Napoleon's Kingdom of Westphalia, but by 1813 it had reverted to the Principality of Brunswick-Wolfenbüttel, before the Prinicipality was raised to the Duchy of Brunswick in 1815. These complexities of life mark Boihlmann's life story before his migration to Australia.
In 1814, Johan and his mother moved to Bremen, where Gesche married the elderly widower Albert Wohlers in 1815. One son was born to thge mariage: Heinrich in 1816, given Johann his first half-brother. In his early teens, Johann was apprenticed as a Blechenschlager [tin metal worker] and by the time of his marriage at age 30 to Anna Louse Hartmann in 1841, he was listed as a Blechenschlageramtsmeister, or official with the guild. Johann's guild and apprentice records have not yet been identified, but a normal timeline would be for the apprenticeship to begin at age 15 for 7 years, followed by 3-4 years of journeying before a tradesperson would be considered for admission as a master to the guild. By the time of his marriage, Albert Wohlers had died (1829), Gesche had remarried (1830 to Franz Heinrich Carl Kohlwes) and her third child and son had been born (1833 Carl Kohlwes).
Johann and Anna had two children during their life in Bremen, living on the Papenstrasse. Franz Carl was born in 1842 but died at the age of one. Anna Louisa was born in 1844.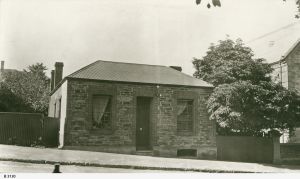 In Australia
In 1846, the entire extended family made the migration journey to South Australia. On the Pauline travelled Gesche, FHC and Carl Kohlwes, Heinrich Wohlers, his wife and children, and the eldest two children of Gesche's brother, Johanna and Albert Büssenschütt. Following a month later on the "Heerjeebhoy Rustomjee Patel" was Johann, Anna Louise and Anna Louisa.
On arrival, the family split up with those from the Pauline moving the German area of Hope Valley, along with a number of their shipmates, while Johann and his family settled in the city itself. This was probably an economic decision based on the likelihood of work in Johann's trade. Initially living in Gilbert street, then Currie street, the family purchased land in on Kermode Street in North Adelaide in 1848 and built a house. The family had increased with a son, Johann, born in 1848 and another son, Jacob Conrad, born in 1850, though Johann and Anna's daughter had died in 1847. Tragedy struck again when Anna Louise died in 1854, leaving Johann a widower with 2 young sons. In 1855 he married Catharina Seecamp, a recent arrival from Baden bei Achim, on the south east borders of Bremen. The couple had 7 children, six living to adulthood adn the family continued to live at the Kermode Street residence until Catharina's death in 1920.
The last two children of Johann's first marriage also died young: Johann at 21 in 1869, and Jacob at 30 in 1880.
Family
Johann Bohlmann had a wide and extended family in South Australia. His mother was Gesche Kolwes of Hope Valley, and his two half brothers, Heinrich Wohlers and Carl Kolwes, also lived in that district. His uncle Johann Hinrich Büssenschütt also lived in the north east suburbs of Adelaide. A niece, Gesine Wohlers married Håkan Linde, and another niece, Gesine Kolwes, married Wilhelm Gustav Kindermann.
Johann married Anna Louise Hartmann in Bremen in 1841, prior to leaving for South Australia. The couple had the following children:
Franz Carl - 11 Jul 1842 Bremen - 1843 Bremen
Anna Louisa - 25 Jul 1844 Bremen - 22 Feb 1847 Adelaide
Johann - 13 Feb 1848 Adelaide - 2 Nov 1869 North Adelaide
Jacob Conrad - 11 Mar 1850 North Adelaide - 16 Jul 1880 Adelaide
Johann's wife Anna Louise died in 1854 and Johann married the recent arrival Catharina Seecamp in 1855. The following children were born from this second marriage:
Residences in the City
Evidence of residence is limited before 1847 due to the lack of surviving assessment books. At the time of Bohlmann's daughter's death in 1846, his residence is recorded as Gilbert Street, and the 1847 assessment book has the family at Currie Street.
| Dates | Place | Current Address | Co-ordinates |
| --- | --- | --- | --- |
| October 1846 - March 1847 | Gilbert Street, South Adelaide | (exact location unknown) | |
| April 1847 - March 1848 | Solomon Buildings, Currie Street (Acre 114 near Rosina Street) | | -34.924456, 138.595763 |
| March 1848 - 1852 | Union Street, North Adelaide (Acre 710, near the corner of Kermode Street) | | |
| 1852 - 1901 | Kermode Street, North Adelaide (Acre 724) | 152-154 Kermode Street | -34.91114, 138.595408 |
Work in the City
Johann initially worked as a tinsmith in his own business, having a workshop on his Kermode Street property from 1848 - 1860. In 1860 he joined the SA Railways as a tin plate worker and, apart from a break between August 1863 and April 1864, worked for them at the Adelaide Construction Department until his retirement on 4 August 1888 at the age of 76.
| Dates | Place | Current Address | Co-ordinates |
| --- | --- | --- | --- |
| 1848 - 1860 | Kermode Street, North Adelaide (Acre 724) | 152-154 Kermode Street | -34.91114, 138.595408 |
| 1860 - 1888 | City Locomotive Workshops | Site of Intercontinental Adelaide and SkyCIty Casino | -34.920890, 138.596860 |
Published Obituary
From the Adelaide Observer, Saturday 21 December 1901:
Mr. John Bohlmann, a colonist of 55 years, died at his residence, Kermode street, North Adelaide, on Tuesday night, at the age of 90 years. The deceased gentleman was born in Bremen, Germany, in 1811, and arrived in South Australia by the ship Patell in 1846. Soon after coming to this state he joined the Locomotive Department, which was then established at Bowden. Mr. Bohlmann retired in 1888, having retained the respect and regard of his superior officers and fellow-workmen. He resided in North Adelaide for 51 years, and up to within a few days of his death he enjoyed fairly good health. He has left a widow, three sons—Messrs. H. Bohlmann, of H.M. Customs; J. Bohlmann, of Messrs. H. Muecke & Co., Port Adelaide; and Mr. G. Bohlmann—and three daughters.[1]

This obituary, and an abridged version, appeared in a number of South Australian newspapers.
References
External links